montinvest a.d. renders consulting, engineering, designing, construction, installation and maintenance services

montinvest a.d. successfully carries out complex projects worldwide
Welcome
With special pleasure, I present you the Joint-stock company montinvest a.d. from Belgrade, the builder who, over a period of several decades of its existence (from 1961), has designed, constructed, mounted, outfitted and maintained the most prestigious construction projects all over the world.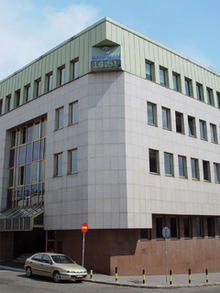 montinvest a.d. office building
In different countries with very demanding and, especially, specific markets, montinvest a.d. rendered its services in Europe, Asia and Africa. The Company has operated in these markets alone and together with major and prominent international companies, among which are the companies ABB, MAB, SIEMENS, MERLONI, BMV, TPG, VA, etc.
montinvest a.d. emphasizes the following:
Designing and construction of the MOSTRANSGAZ Business Centre in Moscow, Refrigerator Factory STINOL in Lipetsk, Hotel Forum in Bratislava, etc.
Reconstruction of the Hotel ZHEMCHUZHINA in Sochi, GAZEXPORT Office Building in Moscow, NLMK Office Building in Lipetsk, etc.
Installations and mounting in the Business Centre UPTOWN in Munich, Munich Airport TERMINAL 2, CHEMICAL PLANT LITVINOV, Czechia, etc.
Operation and maintenance of the TRIPOLI MEDICAL CENTRE, etc.
Current construction of the office and residential buildings on Michurinsky Prospect, Rublevskoe Shosse, Preobrazhenskaya Ploshchad, etc.
This impressive list is a confirmation of high-quality and effective work, conscientious attitude towards partners and successful adaptability to the requirements of an ever more discriminating market. montinvest a.d. exercises its presence in the world market through the representative offices in Moscow, Tripoli and Munich.
At the same time, montinvest a.d. has gathered around itself more than twenty companies thus creating a mighty group capable of constructing the most varied projects on a turnkey basis.
Quality of rendered services, recognizable image and culture, fair attitude towards clients and partners represent both the excellent recommendation and a condition of longstanding presence of the Joint-stock company montinvest a.d. Belgrade in the world market. Furthermore, montinvest a.d. is a reliable and desirable partner.
Together with the shareholders, employees, collaborators and members of the Board of Directors, friends and partners of the company wishes to thank

General Manager,
Aleksandar Cvetkovic